Plastic leather. One of my favourite odes to a rock-chick is leather, or in this case, pleather. If you can be bothered to battle with the sweat or bring a bottle of talc out with you then I salute you. If not, pleather's your man.
One of my most beloved style icons is Chrissie Hynde, from The Pretenders. I love her messy hair, shaggy fringe, smudged eyeliner and leather and denim. Chrissie, herself a vegetarian, would most likely never wear real leather so this is an ode to her.
There's lots of pleather (stop staying pleather!) on the high street at the moment. With denim and stretch-jersey mixes, to just plain out stretchy pleather pants. Worn with heels and some sequins for a night-time look or with a shabby tshirt and converse for a daytime grungey rock look, they're versatile and oh-so cool.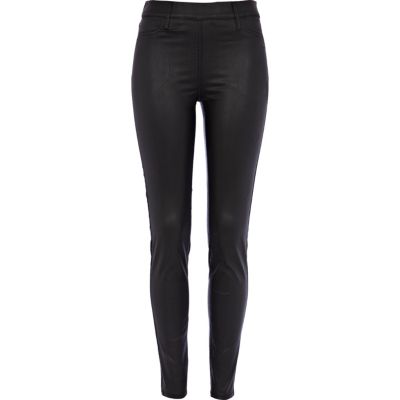 I'm going straight for the River Island ones come payday. And I will live in them.